This year thousands of innocent animals found themselves fighting for their lives as catastrophic natural disasters hit, cruelty cases arose, and abused and abandoned pets ended up in shelters. As we have for more than 100 years, American Humane was there to help these animals in the midst of their times of need, deploying our fleet of emergency rescue vehicles, which are made possible thanks to a generous donation by philanthropist Lois Pope, and partners like Banfield Foundation, PetSmart Charities, and Zoetis Petcare.
As we prepare to enter a new year of providing lifesaving rescue, shelter, care and love to animals in need, we're taking a look back on some of our proudest rescue moments of 2018:

March 2018: Saving 26 Dogs in Need of Immediate Care


In March, American Humane deployed to rescue 26 dogs who were living outside in a flooded mud pit after their owners had been arrested. The dogs were covered in mud and fecal matter, and were emaciated, shaken, and scared.
We rescued the dogs and transported them from the abandoned property to a temporary emergency shelter, where our teams administered medical treatment and worked to soothe the dogs' upset, malnourished bellies. After weeks of care and rehabilitation, the dogs were finally ready for new forever homes.
September 2018: Helping Animals Impacted by Hurricane Florence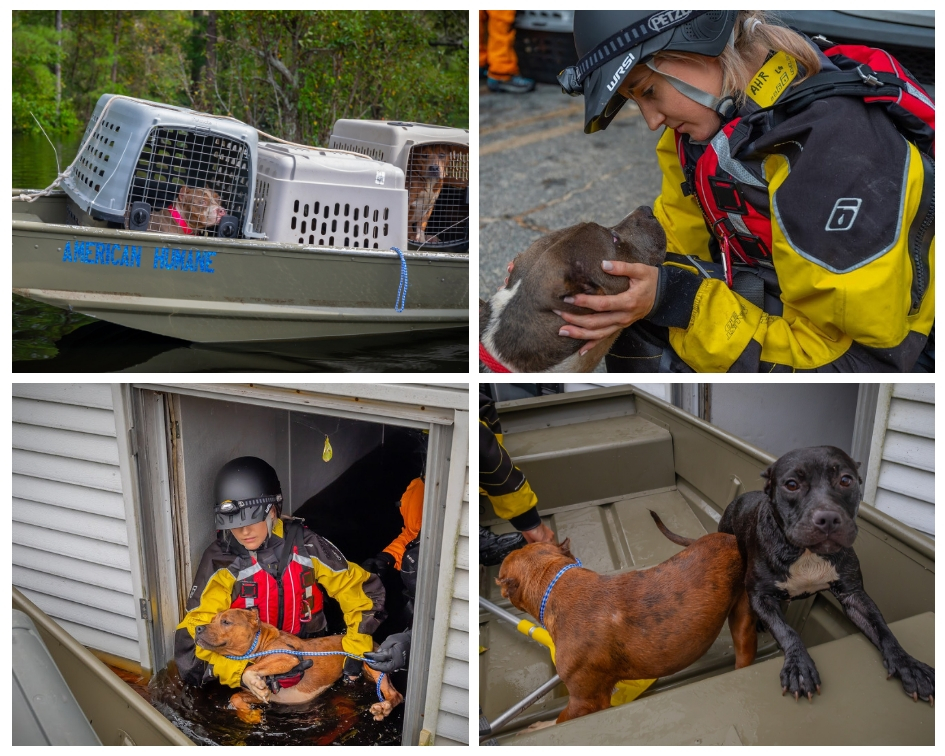 Before Hurricane Florence hit the east coast, the American Humane Rescue Team had already jumped into action evacuating shelter cats in the path of the approaching storm and transporting them nearly 800 miles to safe, dry ground. When the storm made landfall, our team mobilized again, sending two emergency rescue vehicles loaded with boats, medical supplies, and tactical rescue equipment to North Carolina.
As the floodwaters rose and the true extent of the storm's damage began to show, our team assisted in search and rescue operations in areas hard-hit by floodwaters. We checked flooded homes, pulled abandoned and hungry animals from porches, and grabbed kittens from the fast-moving floodwaters. The American Humane Rescue team was proud to work for weeks on one of the most successful—and most emotional—hurricane rescue deployments to date.
September 2018: 255 Dogs Rescued From Horrific Puppy Mills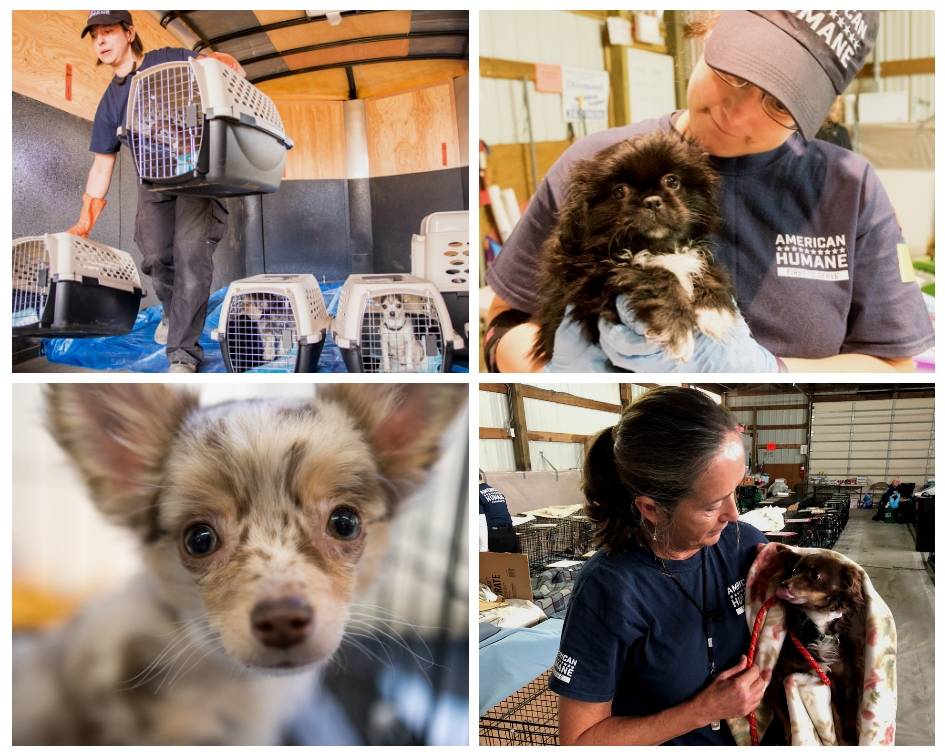 In September, the American Humane Rescue team deployed along with our West Coast rescue vehicle to Washington state to participate in a dramatic rescue aimed at saving, rehabilitating, and caring for 255 small-breed dogs seized in deplorable conditions from two local puppy mills.
American Humane partnered with local authorities and animal aid groups to transport the dogs from the puppy mills to a temporary shelter and provide them with food, medical treatment, and intensive 24-hour care. After the dogs were safely rehabilitated and ready for their forever homes, we worked with local shelters and rescue groups to find adoptive families.
October 2018: Transporting Shelter Animals After Hurricane Michael


When Hurricane Michael struck Albany, Georgia, it was a devastatingly strong Category 3 storm. The area sustained extensive damage and 90 percent of homes were left without power.
The American Humane Rescue team deployed to transport 40 dogs to safety who had been living for days in a damaged shelter without electricity or working water. After driving the dogs 130 miles to an animal shelter that was safely away from the hurricane's damage, our teams said goodbye to the animals, wishing them the best on their path to forever homes.
November 2018: Caring for California Wildfire Animal Victims


The devastating Camp Fire that ignited in California in November burned 153,336 acres and destroyed 13,972 homes. Entire towns were burnt to the ground, and thousands of animals were left injured, scared, and in need of urgent care.
American Humane began by assisting local relief efforts by donating pet food and supplies and providing veterinary care to animals impacted by the fires, and took on a larger role when received an urgent request from the American Red Cross to help care for the pets of families displaced by the fires. Deploying our team of first responders, we were onsite for weeks providing much-needed relief, care, and comfort to pets and their families, allowing them to remain together in the midst of the disaster.
---
We're proud to help animals and pet owners in their worst times—including during natural disasters and cruelty or abuse situations. From all of us at American Humane, thank you to the supporters, partners, and generous donors who allow us to continue to do this work. With more than 91 cents of every dollar going toward our lifesaving programs—part of the reason American Humane was named a Top-Rated Charity by CharityWatch and received Charity Navigator's highest rating: four stars—you can rest assured that your donations are being directly used to help animals.