DALLAS, TEXAS, January 20, 2020 — Military Working Dog Milo, an 11-year-old German Shepherd, came home to a much-deserved retirement in Dallas. After a lifetime of service in the U.S. Air Force as an explosive detection canine, MWD Milo finally has the opportunity to spend his days lounging on the couch, playing with toys and running around in the back yard.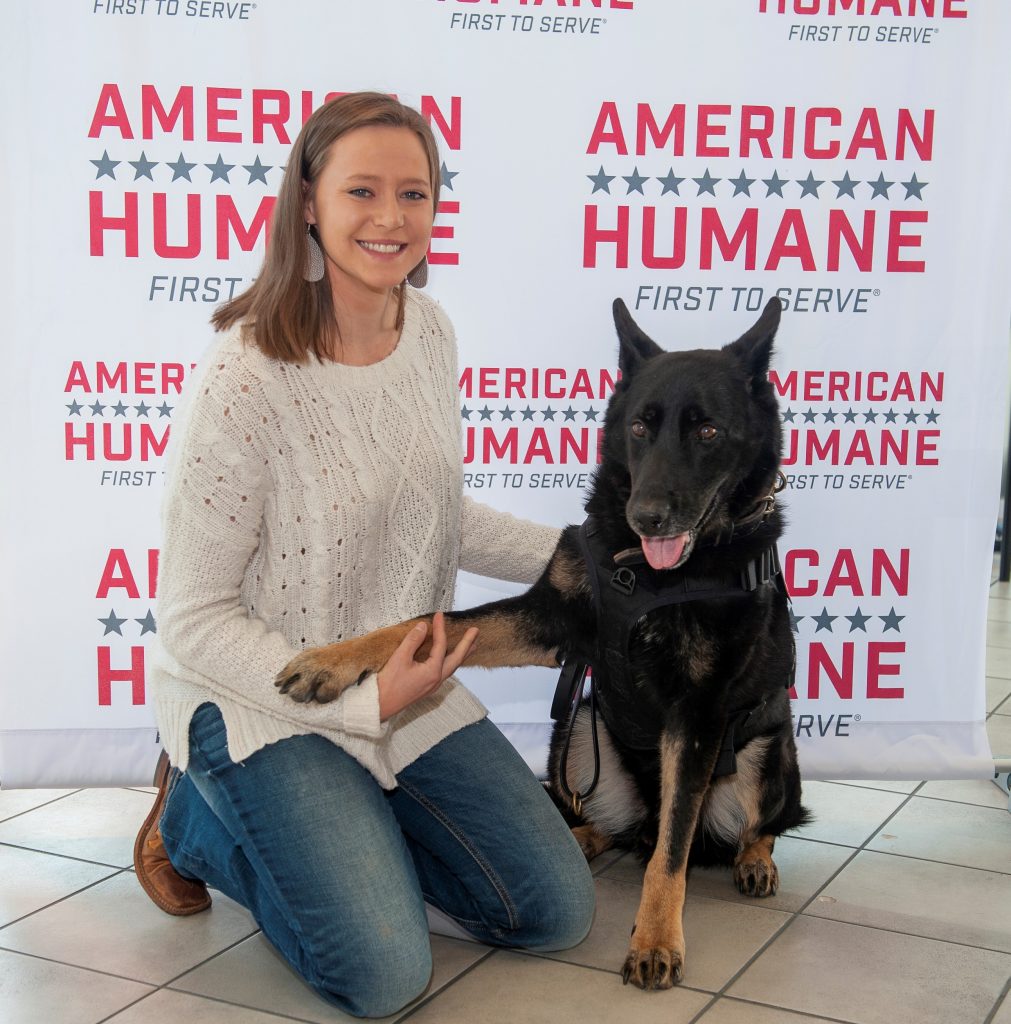 His new family plans to give him a loving home and an easy retirement. Senior Airman Christian, MWD Milo's former handler, and his wife, Kara, adopted Milo. According to Senior Airman Christian, their family is "going to love this baby as much as we can."
Kara, received Milo on Monday at noon at Toyota of Richardson. She recently traveled to Korea, where Milo was stationed, to acclimate the K-9 to her care. Kara spent a month with Milo working on basic commands, playing and, she admits, giving Milo a few too many treats.
Like all dogs, MWD Milo has slowed down with age, and given the health complications that older dogs face has been retired from service. American Humane, the country's first national animal welfare organization, is committed to bringing these K-9 heroes home. In 2016 the organization worked with both members of both parties to include language in the National Defense Authorization Act that mandated MWDS be returned to U.S. soil upon retirement and that their former handlers be given first rights of adoption.
"We believe in honoring our country's K-9 veterans, and ensuring they get the retirements they have earned," Robin Ganzert, American Humane's president and CEO said. "American Humane has worked alongside the military and military animals since World War I, when our animal first responders deployed to war-ravaged Europe at the behest of the U.S. Secretary of War.
About American Humane
American Humane is the country's first national humane organization. Founded in 1877, American Humane is committed to ensuring the safety, welfare, and well-being of animals, and our leadership programs are first to serve in promoting and nurturing the bonds between animals and people. For more information or to support our work, please visit www.americanhumane.org.